Return to Headlines
Pick your Priorities Survey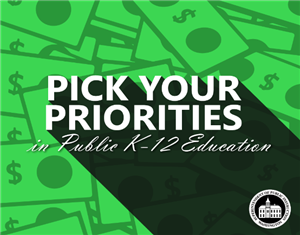 PICK YOUR PRIORITIES IN PUBLIC K-12 EDUCATION!
Chris Reykdal, the Superintendent of Public Instruction has released a survey that asks the public to help develop the future K-12 education budget.
The survey asks participants to decide how important they find things like student support services such as counseling and mental health, family engagement and outreach, school safety enhancements, programs that specifically address racial disparities in learning and discipline, and more.
The survey will remain open until Friday, June 8, and is available in 10 languages. Reykdal plans to release a second survey in mid-summer that will provide Washingtonians an opportunity to prioritize budget request items that emerge from this first survey.
For more information and to take the survey, go to:
www.k12.wa.us/Communications/BudgetSurvey.aspx
¡ESCOGE TUS PRIORIDADES EN EDUCACIÓN PÚBLICA K-12!
Chris Reykdal, el superintendente de instrucción pública ha publicado una encuesta que pide al público que ayude a desarrollar el futuro presupuesto de educación de Kínder a 12
La encuesta pide a los participantes que decidan lo importante que encuentran cosas como servicios de apoyo estudiantil tal como consejería y salud mental, compromiso familiar y alcance, adelantos en la seguridad escolar, programas que abordan específicamente las disparidades raciales en aprendizaje y disciplina, y más.
La encuesta permanecerá abierta hasta el viernes 8 de junio, y estará disponible en 10 idiomas. Reykdal planea lanzar una segunda encuesta a mediados de verano que proporcionará a Washingtonians la oportunidad de priorizar los artículos de solicitud del presupuesto que emergen de esta primera encuesta.
Para más información y para tomar la encuesta, vaya a: